Plant Upgrades for 2020 Season
Every winter Peckham Industries works to make continuous plant upgrades and improvements to all of our facilities. These plant improvements and upgrades are designed to increase efficiency to help us better serve our customers. With the hard work and dedication of our crews, amidst the strain and protocols of COVID-19, we were able to make these upgrades possible in order to gear up for the busy construction season ahead.
Northern Division
Many of the northern plants received substantial upgrades. In Chestertown, New York, new spec oil, rejuvenator tanks were installed, and a new more efficient baghouse for emissions was installed. In the quarry, a "tunnel and stacker" was installed. In Shaftsbury, Vermont, a 250' conveyor and 100' stacker for 3/8" stone was installed. This will increase production efficacy and save between 3-4 loader hours each day.
Further, the Quality Control department received a newly expanded workspace, giving them more room to work to ensure product quality and preform design work.
Dailey Precast was especially busy with plant upgrades this repair season. Many shipping rockers and racks were built. A significant investment into the yard storage in Shaftsbury was made as well. This was a fairly large improvement project this past year. This improvement will ultimately help increase production and productivity.
Central Division
Catskill, New York was a very busy plant for this repair season. This past winter, our teams constructed a sand plant to produce significant quantities of manufactured sand. The project was a challenge due to a tight window for completion as well as the COVID-19 restrictions that we faced halfway through the job.  The plant was completed a couple of weeks late however, we are currently testing and tuning the plant in order to reach proper and consistent gradations as well as production efficiencies.
The Catskill quarry also constructed a new 1,500′ haul road on the west side of the quarry.  This new road helps remove haul truck traffic from the middle of our sales yard making for a safer environment for our customers and haul truck drivers.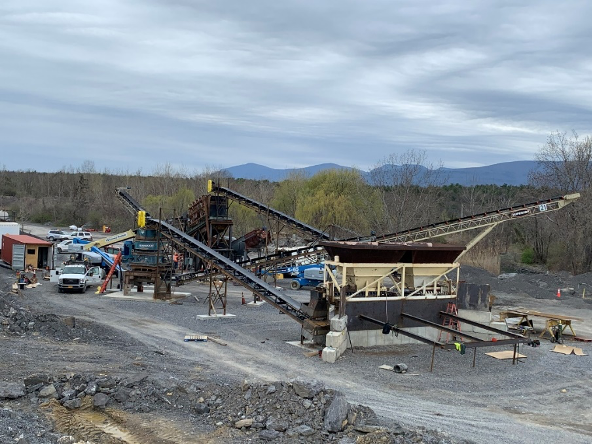 Southern Division
The Bronx, New York HMA plant installed new plant automation technology this past winter. The ten-week project resulted in a state-of-the-art Astec automation system. The Astec system is the next generation of hot mix asphalt controls and is more operator friendly, faster, and more accurate.  The upgrade was completed before the scale check and the plant was able to open earlier than anticipated with NYSDOT approval, despite the difficulty inflicted because of social distancing and COVID-19 protocols. The remaining downstate plants received extensive preventative maintenance this repair season.
Eastern Division
In the recently established Peckham Industries, Inc. Eastern Division, the improvements made over this past winter will not only assist in increasing overall production but will also assist in our goal of achieving safety excellence. POS (Point of Sale) systems were installed throughout the Eastern Division which enabled our scale houses to efficiently and safely scale-out product. Tickets are generated at a kiosk located at the scale and drivers do not have to exit their trucks to walk to the scale house. This system reduces pedestrian traffic at our facilities and saves valuable time for our drivers.
Safety cameras were installed on the silos at Palmer Paving's Easthampton, Palmer and Springfield, Massachusetts HMA plants. These cameras increase overall loadout safety by giving the plant operator an unobstructed view of the silo and the truck body during loadout.
The Windsor Locks. Connecticut HMA plant received extensive rehabilitation and prefabrication this past winter and installed an additional 200-ton Astec silo which will increase storage capacity and production capabilities.
Lastly, strategic relocation of a Palmer Paving cone crusher and air separator to the Westfield (MA) Quarry, will take the production capabilities of the quarry to new levels. Work is underway to set up a sand plant to produce washed manufactured stone sand later in 2020.