Working Together To Solve Challenges as One Team
Peckham Industries is always looking to hire hard-working, innovative individuals who are able to learn quickly, apply mechanical and electrical know-how, and show flexibility and dedication to our team. We hire people from a variety of backgrounds and train them on the job. We offer more than just construction work. Many of our members specialize in administration, finance, environmental, quality control, customer service, project management, and more. We have many members who stay with us for the long term because of the opportunities we offer and our family atmosphere.
Enabling You To Be All You Can Be
Our current career and job listings include those for the entire family of companies wholly owned by Peckham Industries, Inc., throughout New York and New England. Click the button below to review and apply for our current career and job openings. Thank you for your interest in Peckham Industries, Inc.
The Peckham Way
For 99 years, Peckham Industries has remained a family-owned construction and materials partner that has served New York State and New England with loyalty and mastery. Our familial background has allowed our team to implement safety, integrity, dedication, and efficiency into each project—all while simultaneously striving to enhance the communities that surround them. Peckham provides a wide range of products and services, including aggregates, asphalt pavements, paving and construction services, liquid asphalt, recycled pavement solutions, precast concrete parking structures, and more. Headquartered in Brewster, NY, Peckham's extensive network throughout New York and New England includes hot mix asphalt plants, stone quarries, bulk asphalt terminals, paving and construction services, recycled pavement solutions, liquid calcium chloride and emulsion terminals, as well as the logistics capabilities and expertise to deliver those products. Relying on the forefront of family values for a century, the fourth generation of the Peckham family has built an organization that promises a safe and sustainable future that will allow it to grow and serve for the next 100 years. 
Safety
Protect family & friends
Obligated
Provide the appropriate safety tools, protocols and procedures for people to do their job effectively.
Take personal responsibility for safety – see something, do something.
Communicate
Inspire people with messages and actions that keeps safety first and foremost in people's minds.
Communicate often and seek feedback about new developments in safety reinforce why safety matters.
Focused
Make safety an everyday mindset.
Demonstrate zero tolerance for safety violations by taking corrective action immediately.
Safety always wins
Promote a workplace free from any type of harm or harassment.
Create a zero-incident environment for people to come to work everyday and perform at their best.
Integrity
Our word is our bond
Honesty and truth
Always act with honesty and tell the truth.
Provide full disclosure – state the good and the bad.
Respect and engage
Treat all members of the team equally by nurturing an environment that is diverse, inclusive and fair.
Show genuine concern for people and their wellbeing.
Transparency and learning
Admit mistakes and learn from them.
Stay fact based and rational in times of uncertainty and crisis.
Ownership and caring
Behave like you own it.
Act when you see something wrong.
Dedication
Committed to Serve
Humility
Put others first.
Collaborate – working together to solve challenges as one team.
Loyalty
Treat fellow members with respect.
Convey in actions and words a sense of ownership and passion for the company.
Determined
Show determination and drive in getting the job done with high-quality outcomes.
Work with intensity – always going the extra mile.
Mastery
Continuously seek to improve – be the best we can be.
Educate and provide challenging developmental opportunities – enable others to be all they can be.
Efficiency
Results Matter
Compulsive tinkering
Continuously seek to improve our value proposition.
Effectively debate and align around a decision – best ideas win.
Innovation
Remain open to new ways of doing things – actively experiment, leverage technology and engage new ideas.
Empower people to effectively execute and challenge the status quo.
Measurement
Develop standard operating procedures to enable performance and growth.
Utilize agreed upon metrics to drive continuous improvement and performance.
Work-life rhythm
Seek opportunities to recognize, reward, and celebrate.
Create value through member engagement, sustainability and stakeholder partnerships.
Working At Peckham
We value every one of our members. Without our members, we wouldn't be able to do what we do. Peckham offers many enriching benefits to all of our eligible members including: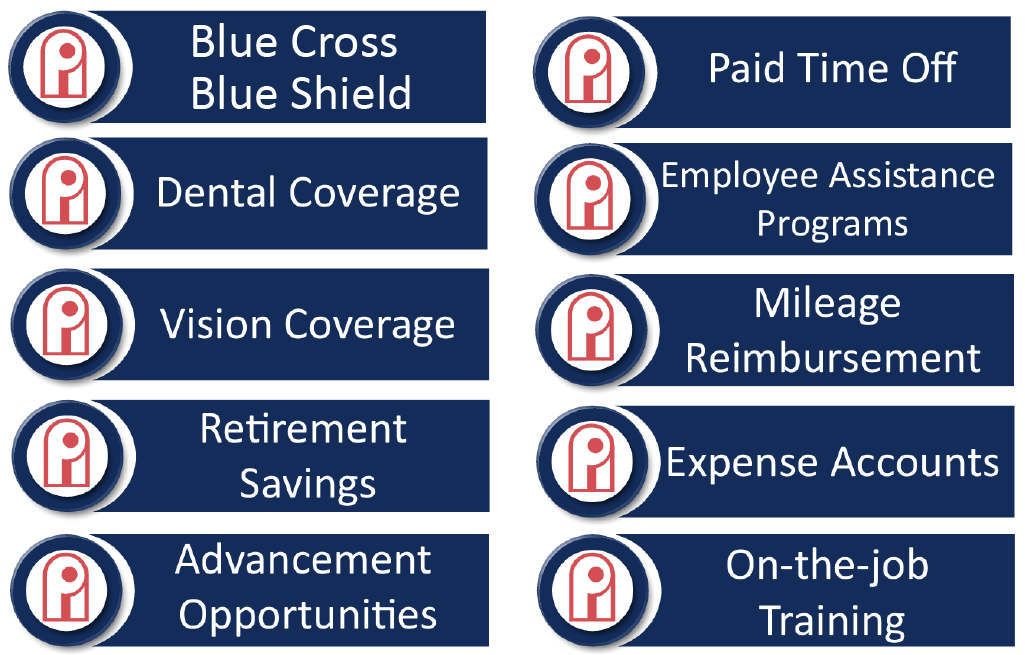 What Our Members Have to Say About Working at Peckham: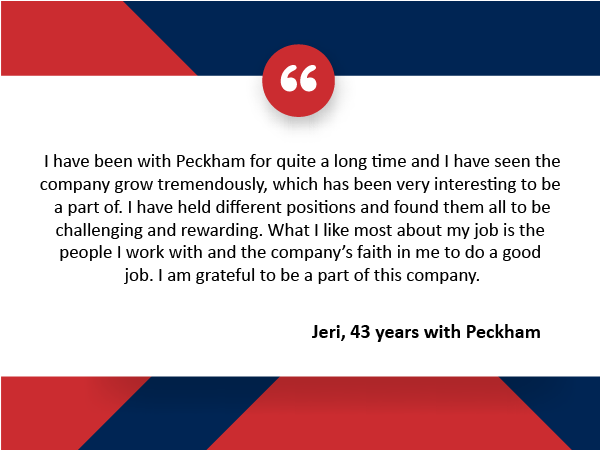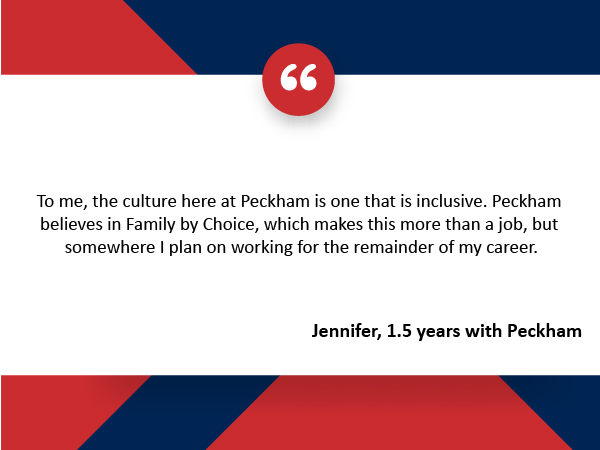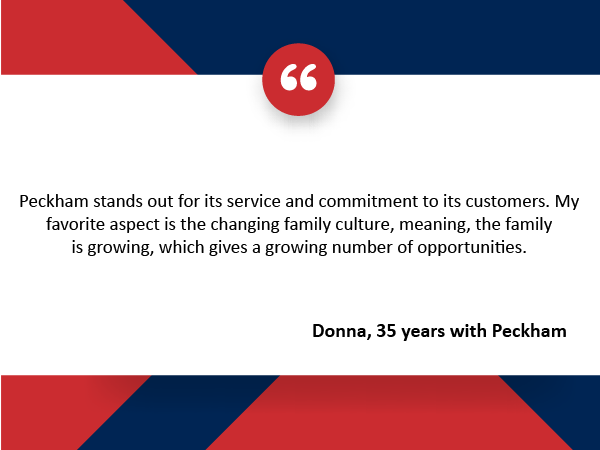 It is the policy of Peckham Industries, Inc. and related entities to provide equal employment opportunity (EEO) to all persons regardless of age, color, national origin, citizenship status, physical or mental disability, race, religion, creed, gender, sex, sexual orientation, gender identity and/or expression, genetic information, marital status, status with regard to public assistance, veteran status, or any other characteristic protected by federal, state or local law. In addition, Peckham Industries, Inc. and related entities will provide reasonable accommodations for qualified individuals with disabilities.