Peckham Industries:
A tradition of excellence since 1924.
1920
William H. Peckham Working for Lane Construction in Barton NY.
1920
Road Building in Cayuga County NY.
1925
PRC Grader in Place Penetrated Stone.
1925
PRC Applying Asphalt Emulsion in Cayuga County NY.
1925
PRC Asphalt Distributor Applying Asphalt to a Road.
1934
John Dafice, Howard Senior, Westchester Asphalt Distributing Corp.
1940
Westchester Asphalt Distribution Corp
1940
Peckham Road Corp., White Plains NY.
1940
Cairo NY Hot Mix Asphalt Plant.
1946
Cairo, NY Hot Mix Asphalt Plant August.
1950
PRC paving in Harrison NY.
1952
PRC, Road Reconstruction US Rte 1, Port Chester, NY.
1953
PRC Excavator, Westchester County NY.
1955
Defiance Asphalt Terminal, Ft. Edward.
1959
1962
PMC, Hot Mix Asphalt plant, New Milford CT.
1962
Peckham Company Newsletter Cover.
1965
PMC, Hot Mix Asphalt Plant, Port Chester, NY.
1965
PARCO Stamford CT, Asphalt Terminal.
1965
Catskill Hot Mix Asphalt Plant.
1967
Wingdale NY Underground Mine.
1972
Jack Peckham and Jim DeForest in the Boardroom.
1975
Hudson Falls NY Hot Mix Asphalt Plant & Quarry Aerial.
1985
PRC Paving Under a Parking Garage, Stamford CT.
1999
Wingdale Materials, LLC Underground Mine, Wingdale NY.
1999
PMC Chestertown NY Quarry.
2004
Peckham acquires William E. Dailey Precast, LLC.
2006
2009
PARCO adds rail facility in Athens, NY, to receive liquid asphalt.
2009
PARCO begins manufacturing polymer modified asphalt.
2012
PMC Oil & Stone Resurfacing.
2012
Cold in Place Road Recycling.
2012
Acquisition of Dutchess Quarry and Supply Co., Inc.
2013
PRC Bridge Work Over the Hudson River.
2013
Peckham Industries begins conversion of oil-fired burners to environmentally-friendly natural gas.
2014
Pleasant Valley, NY, facility embarks on major hot-mix asphalt and crushing plant upgrades.
2016
Completed new offices, shop, training center in Athens, NY.
2016
Hot-mix asphalt plant in Bedford Hills, NY, completes major upgrades.
2017
Chestertown, NY, facility installs a mixing-drum hot-mix asphalt plant.
2018
Peckham Industries, Inc. acquires Palmer Paving Corp, extending its services into Massachusetts.
2019
The headquarters for Peckham Industries is moved from White Plains to Brewster, NY.
2020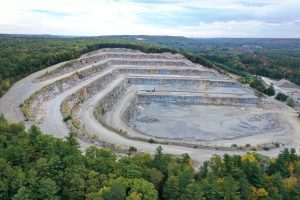 Peckham Industries, Inc. acquires JSL Materials, Inc., adding additional quarry and asphalt operations in Massachusetts and Connecticut to its network.